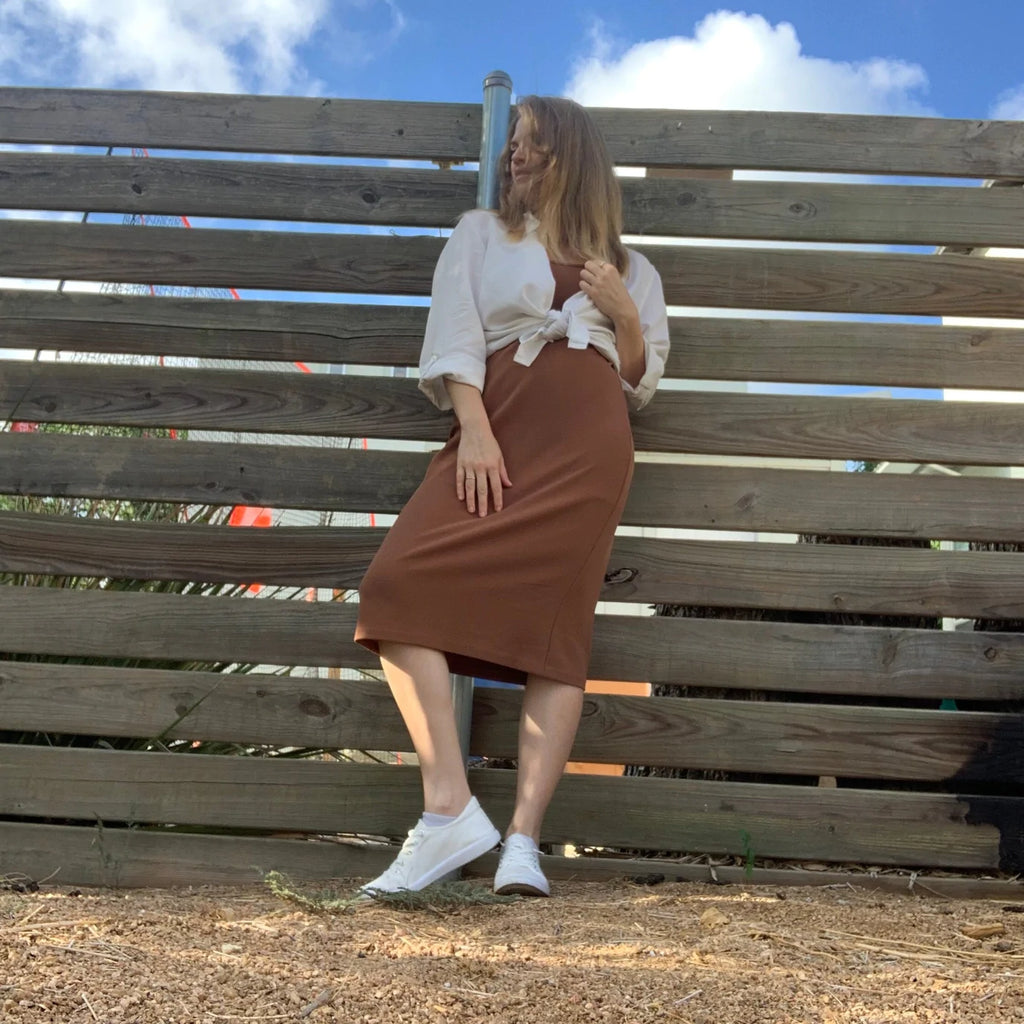 August 09, 2022
We are so excited to announce the launch of our NEW wardrobe staple, The Shelby Midi-Dress from our CW Collective fashion line! It's ethically made in the USA and far from fast-fashion, the fabric is noticeably premium yet easy to wash, moves with your body, and packs effortlessly for travel—you'll have it for years to come! It's shape and color options make it a closet must-have that can be styled in a variety of ways for every season.
FASHION YOU CAN FEEL GOOD ABOUT
This midi-dress was designed by Christian fashion lover, Heather Frierson, woman founder of Created Woman non-profit! It's sales help fund the leadership development of women in this ministry who want to develop their God-given dreams and be launched into the marketplace or wherever God calls them to be as ambassadors of Christ.
You'll feel good about your purchase knowing it impacts women, but you'll also feel good wearing your purchase for so many reasons! 
About The Shelby Midi-Dress: 
1. Adjustable Straps: No matter your height, you can adjust the straps to customize your fit. 
2. Midi Length: You can wear this sandals or heels and it will look fantastic.
3. The Fabric: It's made with 68% Viscone, 27% Nylon, and 5% Spandex so you'll get the right about of stretch and give maximum comfort.
4. Not Delicate: Since life is fragile, your clothes shouldn't be. This basic midi-dress is designed to hold up under pressure. (Ahem—no hand washing here). 
5. Years of Wear: This isn't just a season buy! You're going to get years of wear out of this staple dress.
6. Versatile: Wear it alone, style it with a jacket, or layer a sweater over the top. There are so many ways you can style this midi-dress. 
NAMED WITH INTENTION 
This Shelby Midi-Dress was designed with purpose and it's named with intention. Shelby is a REAL HUMAN, and was the first women to model the sample dress in its earliest production—her story makes the dress come alive! Read our interview with Shelby and learn more of her story and how our leadership development ministry for women impacted her life. 
Q&A WITH SHELBY!
Q:  What inspired you to come to your first Gather Her?
A: 
Gosh, it has been so many years I'm trying to think back to my very first Gather Her, which was probably the first one Created Woman held! The moment I met Heather, I knew (client or not) I wanted to be a part of this. I wanted to watch this really cool woman build something amazing. I just had a feeling it was something I wanted to believe in. So I would say that Heather is who and what inspired me.
Q: What made you come back?
A: Feeling safe. Personally I do really great at events and gatherings when I have something to do. Call it the marketing director in me! When I am taking photos or refilling food trays, I am comfortable. When I have to meet someone new or mingle, that has always been nerve wracking for me. I don't ever feel that way at Gather Her. You always know faces there, even if they are all new ones. It always feels like walking into a coffee date with your oldest friend. 
Q: How has the CW community and Gather Her helped shape what you're doing with your life currently?
A: I have met so many wonderful women through CW and Gather Her. Gotten to work with so many amazing companies and build such lasting relationships. Created Woman themselves is one of my oldest clients, so that alone has been such a blessing. They are such a great ministry for women in ways you don't really see coming. Or at least I didn't! It is great to have a space to feel called to faith, but Gather Her opens up doors of friendship and community along with business opportunity in such a comfortable way.
Q: What would you say to someone thinking about getting involved?
A: DO IT! Do it if you know where you stand in your religion. Do it if you don't! Do it if you feel like you need somewhere to go. Or want to make new friends. I grew up in Austin and still have a great group of core friends here. But the women I've met through Created Woman and Gather Her, whether it be a week or a year from the last time I've seen them - they are so welcoming. They bring this community together and truly care for each and every person who steps through its doors. 
Q: How does it feel to have a dress named after you?
A: This question is a hard hitter for me! My work has always been about helping others bring their dreams and goals to the forefront. I love getting my client's businesses (and themselves) seen and allowing their companies to grow. I have always been the behind-the-scenes presence. And I like it that way. But it puts me in a position where I would never allow myself to think of having my own influence or being able to bring an impact on the public side of a project. So, when Heather told me she was naming the dress after me, I was flooded with emotion. It was such an honor to step back and realize that someone else saw this value in me, and one so deeply rooted in the message she was portraying with her garment.

One of the first times Heather and I met, she told me about her dreams for Created Woman, some of that being about wanting to show women they can dress well no matter their phase of life. How clothing really came down to a form of connection and communication, a way for women to bond. Clothing has always been a way of expression for both of us. So for her to come to me with a dress she spent years dreaming of, designing, working on, and then believing my namesake encompassed enough to do it justice—it was really just such a beautiful moment.
Q: If you could describe the

 

Shelby

 

dress with 5 words, what would they be?
A: Classic, Quality, Impactful, Staple, A Dream (can that count as one word?!)
You can get your own Shelby Dress
HERE
and help other women like Shelby find community and grow in their God given callings through its profits.