Home
Faith + Fashion Blog
Faith + Fashion Blog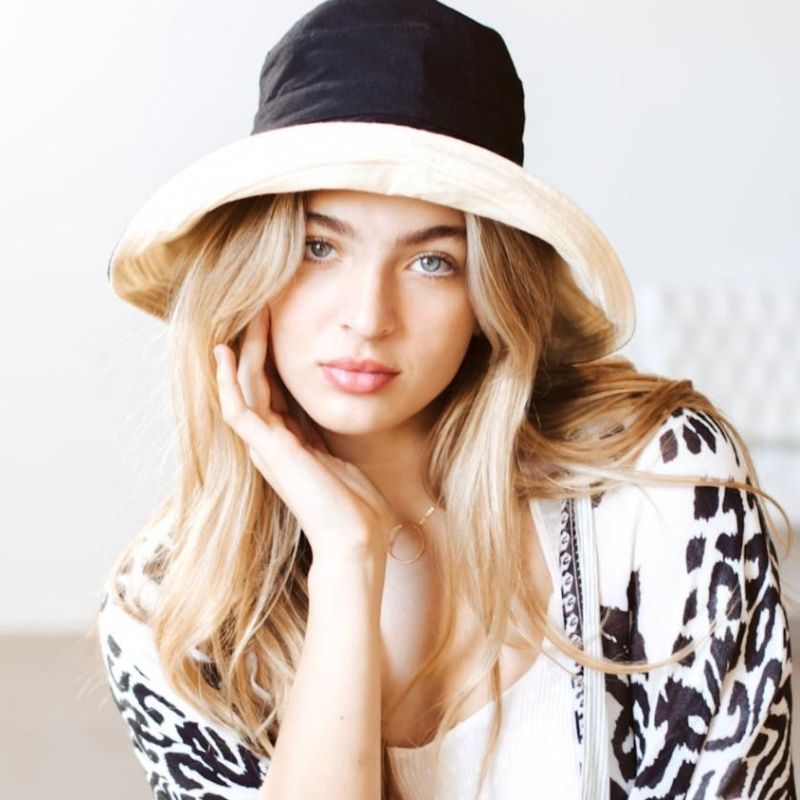 August 18, 2021
If you haven't noticed yet, the bucket hat trend is making a big comeback, and it's here to stay for fall 2021. The best part about the 90's throwback is that there is no wrong way to wear them—they go with everything from jeans to dresses! What do you think? Will you be dawning this trend come September? Ahead, we're showing you different ways to wear the bucket hat trend as we head into cooler, crispier weather. 
>>>Get your bucket hat for fall in the August Faith + Fashion Box — only $25!
Bucket Hat Looks
We've cataloged some of the best bucket hat outfit ideas for you to try now and later. This style is easy to wear because it literally goes with everything. Relaxed, dressed up, business casual...the combinations are endless with a bucket hat. Take a look and take a note—these fall fashion ensembles are worth re-creating. 
Bucket Hat Summer to Fall 
Keep your look casual with a long cotton dress and cable knit sweater. The perfect combo for transitioning out of warmer days. 
 A Twist To Workwear
Is this the 2021 version of the power suit? We're here for it. Classic pants paired with a mid-length blazer brings a super chic look.
Comfy Denim Days Ahead
You know those days when you want to feel comfy and cute? Here's your outfit: boyish jeans, white semi-turtleneck, and the biggest hat trend of 2021—the wide brimmed bucket hat. 
Bucket Hat and Jean Jacket
A denim jacket layered over a flowy dress is a tried-and-true fall outfit that's wearable to just about anywhere. But if you want to elevate your look, the bucket hat is your go-to for added style and fashion.
Brunching or Business Casual
Whether you're sipping a pumpkin spice latte with your girlfriends or headed to the office—this whole look is the perfect blend of casual and sophisticated.
Bucket Hat 90's Fashion
We're catching Clueless vibes all-the-way. And while plaid skirts and chunky boots of the 90's might not be for everyone, the bucket hat definitely is. 
Black Everything for Fall
Black bucket hat...check. Black jacket...check. Black pants...check, check. You get the point. 
Classic Fall Staples
When you feel like you have nothing to wear, lean into your fall staple. Layer a cardigan over a basic-t and pair them with jeans, legging, or trousers. Add a crossbody bag and of course...your bucket hat to complete the look.
Have fun dressing up in one of 2021's biggest trends—we can't wait to see how you style yours from the August Faith & Fashion Box.